While browsing through Outside the Lines, a local art gallery,  I came across this sweet card by artist Beth Mueller and instantly thought of my own two sisters. Through the years I've always been able to count on them for wise counsel and moral support.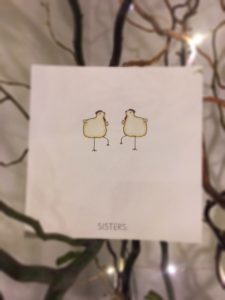 Growing up, my sister Jane, nine years older, was often charged with babysitting me. She cheerfully towed me along to cheerleading practices, always made me feel like a welcomed member of her circle of friends and didn't bat an eye when one day I found her stash of candy she was supposed to sell for a cheerleading fundraiser and ate nearly every single box. When I was in college she invited me into her home so I could live with her family and save some money while I did my student teaching.
My sister Molly, four years older, could be counted on to play school and Little House on the Prairie in our garage. She gave me egg-white facials, and organized, cast and choreographed legendary shows in our garage that the entire neighborhood came out to see – I still know all the moves to Chantilly Lace.  Molly also did my hair and makeup for my wedding — never have I felt as beautiful as I did on that day.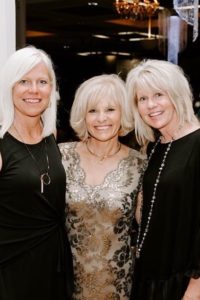 When my son was diagnosed with cancer,  my sisters were there to hold my hand and to pray when I felt that I couldn't. When I was away from my daughters while my son was in the hospital they checked in on them, making sure they didn't feel alone. In short, they helped make a very difficult situation bearable.
I still call them for advice about parenting, marriage, health and fashion –  about which I'm absolutely hopeless. I'm sure as a child, I was the consummate pest of a little sister. I know I swiped their clothes, make-up, and invaded their personal space. I'd like to think, that as adults, our relationship is now much more reciprocal, although I don't expect to get any calls asking for fashion tips.
When my sisters and I get together our chats assuredly drift toward books. We recommend authors and titles and we pass books back and forth. We chat about the characters as if they are old friends and at times shake our heads at the life choices they have made and celebrate their triumphs.
From Molly and Jane I've learned about generosity and the importance of giving of oneself. They've taught me that it's okay to laugh at myself and that it's okay to cry. They have been right there with me during my very best days and during my darkest moments.
Every single day I count my blessings for Jane and Molly, my best friends. My sisters.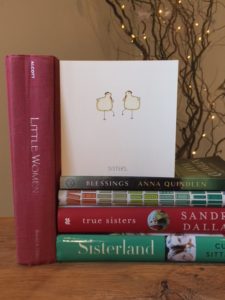 Just a few of my favorite books about sisters (in no particular order):
PS. I love my three brothers too – a post about them is coming soon!