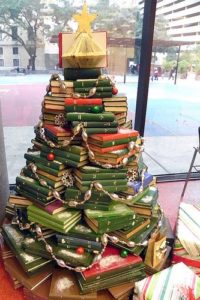 Okay. This was a bait and switch. This above book Christmas tree is from the Houston Public Library. I found it on Pinterest.
Everywhere I look this holiday season I see book Christmas trees. On Pinterest, Facebook, Instagram. The pictures make it look so easy. I'm a book lover. I've got hundreds and hundreds of books. I can do this!
9:56 AM: I send off the first 40 pages of my next novel to my editor so she can take a peek. Yay me!
10:15 ~ Head to Menards to pick up some greenery for decorating the house for the holidays. Listen to some Christmas music on the way.
11:15 AM ~ This is a good time to tackle that book tree. I begin to gather up the books. Make about 25 trips up and down the stairs.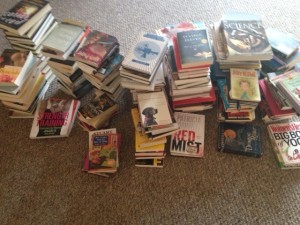 11:30 AM ~ Aw look, some of the kids' favorite books from when they were little. These are definitely going to be part of the book tree. Except the one with the barcode on the front. Sorry GWMS – it's only about four years overdue! I'll return it on Monday.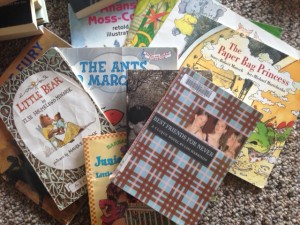 12:36 AM ~ Lolo wants to help. She's so cute. I just have to take a pic and post it to FB.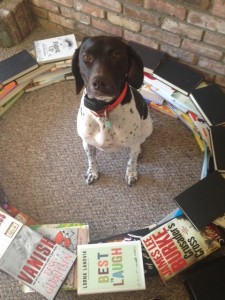 1:39 PM ~ Looking good. I didn't think the tree would end up this wide though.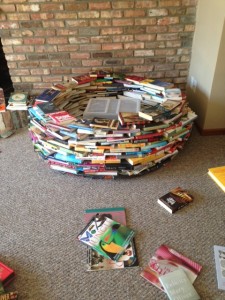 2:04 PM ~ It's getting a little wobbly. I'll just add a few items to help shore it up. Yes, that's a bulletin board.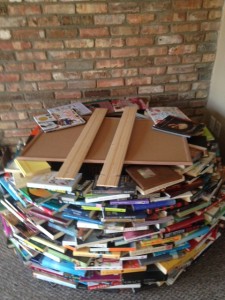 2:20 PM ~ Progress!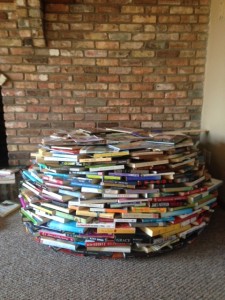 2:32 PM ~ The end is in sight.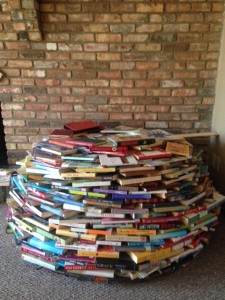 3:37 PM ~ Done! I think. It looks kind of… I don't know…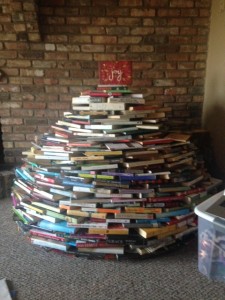 3:39 PM ~ I'm still not sure. It looks kind of widish on the bottom. I text a picture of it to an Unnamed Family Member. No response. I'll just call her.
Me: I just sent you a picture of my book tree. Will you take a look?
UNFM (Unnamed Family Member): Laughter
Me: What? Doesn't it look like a tree?
UNFM: More laughter
Me: I'm starting over!
UNFM: I think I might have peed my pants a little (more laughter)
3:59 PM ~ Now this could be a little more manageable. I can do this!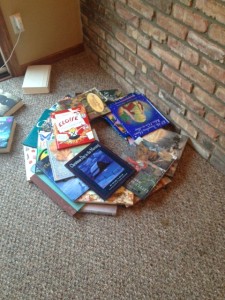 4:15 PM ~ Diet Coke break.
5:06 PM ~ This still doesn't look right. I text a picture to UNFM.
Me: Why can't I do this?
UNFM: I could help you on Sunday. Go have some wine. And guac!
Me: I really want to do this!
UNFM: I think it's looking good…maybe lights would help
Me: Or an architect
UNFM: Hahaha! Oh my goodness, I have laughed waaay to much over this!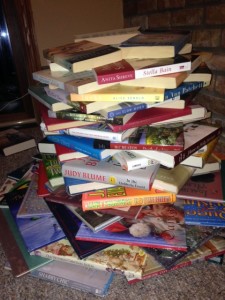 6:34 PM ~ Lights help. Right?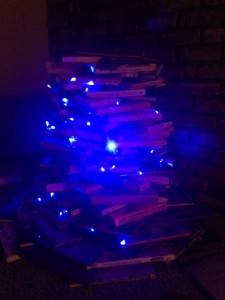 6:36 PM ~ Never mind. Drink anyone?