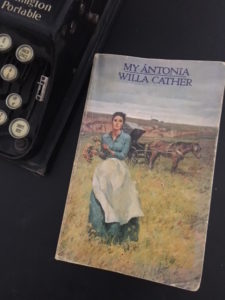 Every year I reread my favorite novel, My Ántonia by Willa Cather, and 2019 will be no different. I fell in love with this novel when I was eighteen and discover new treasures each time I revisit its glorious pages. I found a copy of My Ántonia in a box of books I was unpacking after I moved with my parents to Nebraska the summer I graduated from high school. I was in a new state, a new city, knew no one my age. I was far from my friends and feeling lonely. I turned to what has always brought me comfort during difficult times ~ reading.
I flipped through this 1973 edition and a name caught my eye ~Ántonia Shimerda. My great-great grandmother's first name was Antonia and my maiden name was Schmida and I immediately felt a connection to the book's namesake.  The story of Ántonia is told through her neighbor, Jim Burden who befriends the irrepressible immigrant from Bohemia and teaches her English. My dad's family came to the United States from Czechoslovakia in the 1800s eventually settling in South Dakota – another connection to the story. I carried the book to my bedroom, shut the door and became immersed in Cather's account of a beautiful but brutal Nebraska prairie and the people who inhabited it. I mean, who couldn't be entranced by, "Trees were so rare in that country, and they had to make such a hard fight to grow, that we used to feel anxious about them, and visit them as if they were persons" and "Winter lies too long in country towns; hangs on until it is stale and shabby, old and sullen." 
I love this novel so much that I search out different editions to add to my collection.
This January, I'm reading not just My Ántonia but all things Willa Cather.
The Selected Letters of Willa Cather  – edited by Andrew Jewell and Janis Stout. Withheld from publication for six decades, this collection of musings includes letters spanning from Cather's teenage years to her final writings.
April Twilights and Other Poems  – Little known fact –  I love reading poetry. I often turn to poetry when I need inspiration for my own writing. One of my favorites by Cather is I Sought the Wood in Winter.
I sought the wood in winter
When every leaf was dead;
Behind the wind-whipped branches
The winter sun set red.
The Bohemian Girl: Stories – A collection of short stories by Cather from early in her writing career.
Willa Cather passed away in 1942 but her beautiful words live on. If you haven't delved into Cather yet, do yourself a favor and give it a chance.
Happy Reading!