Have I got a list for you!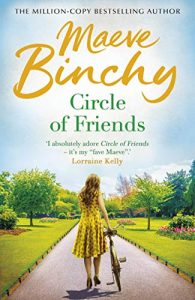 As of late I, like many of you, have been reading a ton as a way to escape the craziness of the world around me. Below is a list of some of the books I've enjoyed over the past few months, including a few new additions I cannot wait to dig into:
The Monsters We Make by Kali White – In The Monsters We Make Kali White deftly conveys the terror that gripped a community, a city, a state and a nation when several paper carriers were snatched from their routes. A product of the face onthe milk carton generation, I was immediately swept back in time and into a maelstrom off fear, uncertainty and suspicion as I flew through the pages. With a shivery premise and richly-drawn characters, White takes a child's greatest fear and a parent's worst nightmare and delivers an addictive novel that must be read with the lights on.
Circle of Friends by Maeve Binchy – One of my favorites by Irish author, Maeve Binchy. Join best friends, Benny Hogan and Eve Malone as they navigate life in the small village of Knockglen. As years pass and the circle of friends widens, Benny and Eve face new adventures, challenges and heartbreaks.
Light A Penny Candle by Maeve Binchy – Another great read by Binchy!  To escape war-ravaged World War II era London, young Elizabeth White is sent to Ireland to live with the rambunctious O'Connor family. A tight bond is quickly forms between Elizabeth and Aisling O'Connor and though the years brings them both triumphs and heartaches, the two carry on together.
Pickard County Atlas by Christina Harding Thorton – This atmospheric thriller hits the shelves on Jan. 5, 2021. Pickard County Atlas, by debut author Chris Harding Thornton, is a darkly addictive read that pulls you deep into the web of secrets that lie at the heart of the troubled Reddick family. Thornton has crafted a haunting, dread-soaked tale, as gritty as the sandhills of Nebraska where the story takes place, that will cling to you long after you turn the final page.
The First to Lie by Hank Ryan Philippi – In The First to Lie by Hank Philippi Ryan intricately weaves the past and the present into a compelling tale of deception. True to form, Ryan masterfully escalates the suspense in this smart, twisty thriller. With jaw-dropping discoveries, The First to Lie will shock even the savviest of suspense readers. Ryan's best yet.
The Swap by Robyn Harding – I will read anything that Robyn Harding writes and The Swap is as deliciously twisted as I'd hoped. A thrill ride about the dark side of marriage and friendship, The Swap is diabolically plotted, fast-paced and features a main character that you won't want to turn your back on. Loved it!
Stillhouse Lake by Rachel Caine – Wow! This page-turner has it all. Gwen Proctor, with her children in tow, is on the run. She's running from the horrendous secret life her husband led, running from Internet trolls and stalkers, in hopes of building a new life for her family. Sadly, beloved author, Rachel Caine, recently passed away after a courageous battle with cancer. Her talents will be greatly missed by readers all over the world.
Just Get Home by Bridget Foley – Just Get Home by Bridget Foley hits the thriller trifecta: a natural disaster, danger around every corner and compelling well-drawn characters who unite to survive the most harrowing journey of their lives. Foley effortlessly weaves together the voices of Beegie and Dessa to chronicle a night filled with devastation, terror, heartbreak and ultimately hope as they try to make it home after a deadly earthquake. Inventive, emotional and addictive, Just Get Home is not to be missed. Available April 13, 2021, preorder your copy now.
We Are All the Same in the Dark by Julia Heaberlin – We Are All the Same in the Dark has surged to the top as one of my favorite reads of the year. In Wyatt, Odette and Angel, Heaberlin has created rich, multilayered characters who lead us into a darkly immersive exploration of loss and the search for the truth.

 

I wanted to sit and savor Heaberlin's beautiful prose but the twisty plot and unexpected revelations propelled me through the pages of this spine-chilling novel. In WE ARE ALL THE SAME IN THE DARK, Heaberlin deftly unspools the threads of an awful crime and its far-reaching implications. Absolutely mesmerizing.
Confessions on the 7:45 by Lisa Unger – Lisa Unger has done it again! Brilliantly crafted and exquisitely suspenseful, Lisa Unger's Confessions on the 7:45 had me in its grips from the very first page. With Unger's one of a kind eye for detail and perfect pacing, this bold and original novel is not to be missed. Unger's best yet!
Blame by Jeff Abbott – Jane Norton crashed her car, killing her friend David and leaving her with no memory of the event.  But of course, nothing is ever as it seems. As Jane's memory slowly returns, she comes to realize that the events of that awful night did not unfold in quite the way everyone believed. Now Jane is racing to regain her memory and to discover the truth before it was too late. Absolutely unputdownable!
Every Now and Then by Lesley Kagen – Lesley Kagen's exquisite novel, Every Now and Then, has everything I look for in a novel ~ memorable characters, a richly drawn town teeming with secrets and a mystery that kept me flying through the pages. Kagen's trio of best friends, Biz, Frankie and Viv left an indelible imprint on my heart. Don't miss this timeless, beautifully crafted coming of age story.
A Boob's Life by Leslie Lehr – Leslie Lehr's A Boob's Life is told with heart, humor, hope and a whole lot of sassiness. Lehr fearlessly and candidly brings us along on her breast cancer journey and beyond. Have a box of tissues at the ready as you read this deeply personal memoir, you'll need them to wipe away tears of heartache and laughter.
Final Girls by Riley Sager – The Final Girls is a club that Quincy wishes she wasn't a part of – a group of women who survived the unfathomable. When one of the Final Girls ends up dead under suspicious circumstances and another shows up on Quincy's doorstep, Quincy once again finds herself fighting for her life. An excellent thriller.
You Will Remember Me by Hannah Mary McKinnon -Hannah Mary McKinnon does it every single time! You Will Remember Me begins at break-neck speed and keeps readers riveted to the page and holding on for dear life. McKinnon expertly mines the relationships between her compelling, complex characters to take the reader on an unexpected, thrilling journey into the deepest, darkest corners of the mind. Coming on May 25, 2021. Not to be missed!
No Exit by Taylor Adams – A blizzard, a little girl locked in a stranger's van, a deserted rest stop and one young woman's attempt to save the girl and herself. One of my favorites of the year!
Call Me Elizabeth Lark by Melissa Colasanti – Here's the summary from the publisher: "Your daughter went missing twenty years ago. Now, she's finally back. You thought she had returned a few times in the past, and your husband tells you she's not the one, but you feel it in your bones." I'm reading this now and am hooked. Coming March 9, 2021.
The Family Ship by Sonja Yoerg – Coming February 23, 2021. From the publisher: "From the Amazon Charts and Washington Post bestselling author of True Places comes a disarming and emotional novel about a family in distress and a daughter's mission to keep it from going under." I'm excited to curl up in front of the fireplace with this one.
The Stranger in the Mirror by Liv Constantine – I may have jumped up and down for joy when an advanced copy of this book arrived in the mail! From the publisher: "A diabolically twisty, psychologically unsettling novel about a woman with no recollection of her past from the authors of the Reese Witherspoon Book Club pick The Last Mrs. Parrish and The Wife Stalker." Available July 6, 2021.
You'll Thank Me For This by Nina Siegal – An adrenaline rush of a novel. I tore through this novel in one nail-biting sitting. Based on the Dutch coming of age tradition of "dropping" preteens into the wilderness,

  

smart, gutsy, twelve-year-old Karin steps into the forest armed with only a compass and her wits to face a night of unknown dangers and unfathomable evil. When Karin and the other children fail to arrive at base camp, Karin's increasingly anxious mother, Grace, decides she has to take matters in to her own hands and discovers a secret that shakes her to the core. Gripping and fast-paced, You'll Thank Me For This is a debut not to be missed.

Available on March 23, 2021. Preorder now!

When I was You by Amber Garza – Two women with the same name, living in the same town results in an insidious obsession. From the publisher: "You meets Fatal Attraction in this up-all-night story of suspicion, obsession and motherhood." I'm so excited to jump into this one!
The Invisible Life of Addie LaRue  by V.E. Schwab – Recommended to me by one of my favorite booksellers at one of my favorite bookstores – Swamp Fox Books. Can't wait to read this expansive novel that takes readers across centuries, continents, across history and art.
Felicity: Poems by Mary Oliver – Words woven together beautifully. Poetic bliss.