Today, I welcome, NYT bestselling author, J.T. Ellison, whose newest novel, GOOD GIRLS LIE, hits the shelves on Dec. 30, 2019. Publishers Weekly gives it a starred review calling it "A high-tension thriller…Alternating points of view raise the suspense, blurring the lines between what's true and false…Ellison keeps readers guessing throughout."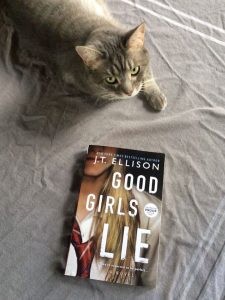 Heather: J.T., do you remember the first time we met? We met a sales conference that our publisher hosted on Amelia Island. My first book hadn't come out yet and we were asked to talk a little bit about ourselves and our books. I was completely star-struck that I was going to meet you and the publishing team, I thought I was going to pass out. You were so supportive and reassuring to me – I'll never forget how kind you were.
And now, here we are, over ten years later and your newest novel, GOOD GIRLS LIE, is going to hit the shelves on December 30, 2019. Tell us a little bit about your newest thriller.
J.T.: Oh my gosh, do I ever remember. I was so struck by your presence, how you talked about your personal journey to writing and your story, how every single person in the room was leaning forward in their seats, hanging on your every word. And you signed a book for me, remember? It's funny, I thought *I* was the one who was going to pass out. It was scary, and we were in it together. An awesome memory. Ten years… and hey, let me start by saying congratulations to you – you've just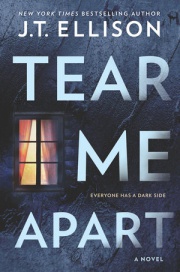 signed a new deal for two more books. Brava!
It's funny, because here we are ten years later, and GOOD GIRLS LIE is the book I wanted to write even back then. I've always dreamed of writing a boarding school mystery. They're my favorite books to read, and I've had the setting for mine forever. I went to an all woman's college that had a strict rule that all students live on campus – and our campus was very small, and very haunted. It certainly turned me into the writer I am today – I was a creative writing major, and my voice was distinct, even back then. In my story, Ash Carlisle, recently orphaned, moves from Oxford, England to attend The Goode School. She immediately gets on the radar of the Head Girl, and not in a good way. Murder, lies, and deceit follow, until the dean of the school, Ford Westhaven, starts to wonder what she's done letting this new student on campus. I've been pitching it as Jane Eyre meets Gossip Girl or Pretty Little Liars. It was so much fun to write!
Heather: Thank you ~ you are very kind! I remember you as being very poised and I couldn't believe I was sharing the stage with a published author – I'm so grateful to have you in my corner during this journey.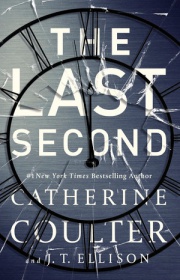 And I am so excited to read GOOD GIRLS LIE – it sounds amazing and right up my alley. Social pressures are challenging enough in traditional schools; I imagine it can be even more overwhelming in a boarding school setting.
Now you have me intrigued. I'm obsessed with haunted spots – do you have a certain ghost story you can share with us? Also, I'm always looking for book recommendations – what are some of your favorite boarding school mysteries?
J.T.: Ha – I was terrified! You made me feel much more at home.
I have a lot of weird ghost stories. I've had wild experiences in New Orleans and many in Scotland – just a few months ago, in Edinburgh, I was sitting in a bar with my husband and we were trying to make a pretty big life decision. I felt a hand on my back – I thought it was the bartender, coming to ask if I wanted another drink. But no one was there. It was a very maternal caress; it wasn't frightening, just affirming. The next night, same place, I was on my cell phone, looking at Instagram, and someone kicked my leg under the table, as if to say hey, get offline and pay attention to the now! At school, though – whew. Talk about spooky. There were definitely poltergeists in the attic, moving furniture and walking around. We'd lie in bed listening to these noises, then sneak up the stairs trying to see who was there. The room was always empty.
Have you had any ghostly experiences?
I'm collecting my favorite boarding school mysteries for an essay I'm doing, but a few I can heartily recommend are PREP – Curtis Sittenfeld; LAKE OF DEAD LANGUAGES – Carol Goodman; and THE BROKEN GIRLS – Simone St. James.
Heather: Your brushes with the other side sound deliciously creepy! and! I'm not sure that I've had experiences with ghosts but I could tell you about an encounter I had with a psychic that would send chills down your spine.
I have to tell you, I'm in complete awe of your energy, creativity and willingness to try new things. You are a NYT bestselling author, have written or co-written 22 novels and a number of novellas, short stories and anthologies. You run your own publishing company, host a television show all about books, write an amazing blog and are a wine connoisseur. You do all of this and much more so incredibly well. Tell us a little about where you find the inspiration and courage to explore all these different avenues?
J.T.: Oh lady, you've hit me in my breadbasket tonight. I've had one of those crazy days where my attention has been completely fractured. Let's be honest, I don't do all of this alone. I have a fantastic assistant who takes a lot of the load off, a co-host for the TV show, many years of experience juggling multiple books, and a love of all things writing-related. I also really, really dig the business side of publishing. It fascinates me, and when I'm curious about something, I have a tendency to jump in with both feet. There's just so much to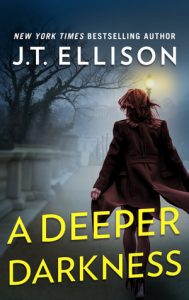 understand, so much to experience, so much life to live. On days like today, when my assistant literally says to me – no, you don't need to write a cookbook on top of everything else you're doing – I have to remind myself that life is long, and I have plenty of time to get to all the things. The line from Hamilton—why do you write like you're running out of time—really resonates with me. One day, someone (me?) is going to give me permission to just write. That will be glorious.
You have a ton going on, too. How do you balance everything?
Heather:
JT, do you remember the first time we met? We met a sales conference that our publisher hosted on Amelia Island. My first book hadn't come out yet and we were asked to talk a little bit about ourselves and our books. I was completely star-struck that I was going to meet you and the publishing team, I thought I was going to pass out. You were so supportive and reassuring to me – I'll never forget how kind you were.
And now, here we are, over ten years later and your newest novel, GOOD GIRLS LIE, is going to hit the shelves on December 30, 2019. Tell us a little bit about your newest thriller.

J.T.: The story of how I came back to writing has the makings of a sad country song. We'd moved from D.C. to Nashville. I couldn't find a job. I had no local friends. I was having migraines from the stress. And then the cat died. My darling 18-year-old baby. And I was so lonely. I went to the shelter and met this adorable little kitten who was ill with a cold. They would have put her down, and I couldn't have that. We adopted her, named her Jade, and as it happens, the vet who treated her was looking for help. I applied and he hired me. I thought I'd be at the front desk, meeting and greeting, but he wanted me as a tech. In the back. I don't know if you've ever been behind the doors at the vet, but it was not for me. I was going to give him a full week before quitting, but the third day, I herniated a disc in my back picking up a dog, and had to have back surgery. Needing lots of reading material, and liking crime fiction, I went to the library and asked who they recommended. The librarian asked if I'd read John Sandford. I hadn't. Three books into his Prey series, I knew I wanted to try writing again. And there she was, as bright and clear in my mind as if she'd walked up to me and introduced herself. Taylor Jackson was born on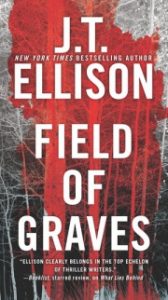 Interstate 40 as I was driving downtown for rehab, leaping fully formed from my brain. My Athena. So it was a combo platter, loneliness and Nashville and Jade and John and the librarian. I firmly believe everything happens for a reason. Jade was brought to us to put me on the right path.
Heather: Oh wow! In addition to your cookbook, you need to write a screenplay around your experiences! What a time you went through. I agree, John Sandford's books are incredible – I think I need to go back and reread from the beginning. Your Taylor Jackson is one of my favorite series characters that I've had the pleasure of reading and though I know the road to bringing her into the world was fraught, I'm so glad I've got to meet her through your books.
I have never been behind the scenes at the vet's office but my next novel, THIS IS HOW I LIED, features a veterinarian. In visiting with vets and hearing their experiences, I learned so much about the ins and outs of their day-to-day practice. I appreciate the work they do, but I'm definitely a waiting room kind of girl.
I love seeing pictures of your kittens on social media, and like you my Lolo, a German shorthaired pointer, is my writing buddy. She is at my side all the time while I work.
With the new year fast-approaching, I always start thinking about resolutions and goals for the coming year. I tend to worry about what's going to happen next, so in 2020 I'm going to work on staying present in the moment and enjoying the people and experiences right in front of me. How about you? What's your philosophy on resolutions?
J.T.: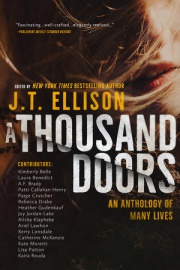 Cookbooks and screenplays… will definitely happen at some point!
As for Sanford, MIND PREY was it for me. That book is perfect. And I love our veterinarian synchronicity! Suffice it to say I could castrate a tomcat without too much issue. Not that I ever would…but in a pinch, I'm your girl.
I am a big fan of one-word resolutions, and I love your plan to stay present and be mindful. I applaud any attempts to stay grounded in our distraction-ridden world. Isn't it amazing how much there is to learn and absorb and read and synthesize? Is it more than it used to be? Or are we just exposed to more because we're all so interconnected?
Last year was supposed to be the Year of Joy for me, and I have to say it was a mixed bag. I had some incredible highs, and some difficult stretches. This year, I'm working a mindfulness theme as well, using the word Enough. I'm a terrible perfectionist, and I can lose time trying to fix things that don't necessarily need to be fixed. I battle with myself over little details that most people would never notice. Granted, I do have OCD, so there's an organic reason why it's hard for me to shut off these little buggy things, like an extra space between and emoji and the next letter. I mean, that's ridiculous, and NO ONE CARES! I'm going to work on desensitizing myself so I can focus on the things that matter, instead of the things that don't. It's probably my hardest challenge to date.
When you do your resolution, do you set intermediate goals? Or are you nice and relaxed about it, how you should be?
Heather: It is amazing how much there is to learn. I think because of today's technology, we are more exposed to and have access to so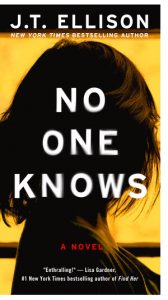 much more than in the past. The trick is figuring out what's important, useful and moves us.
I like your one word resolutions ~ easy to remember and to apply to all aspects of life. I guess my word for the year will be Focus. For my resolutions I've been pretty relaxed about them but this year I'm going to try and formalize it a bit more. My plan is to keep a journal and
use it to check in briefly on how things are going. I have a feeling 2020 is going to be a special year. What are you most looking forward to?
J.T.: I agree, I think 2020 is going to be special, too. I'm looking forward to touring Good Girls Lie, visiting with friends, a real vacation—someplace warm where I leave all the electronics at home—getting another novel underway, and celebrating my 25th wedding anniversary! It's funny, the book I write in 2020 will be my 25th, so the silver anniversary applies to both writing and marriage. A great way to kick off the next decade.
You can connect with J.T. here:
J.T.'s books are available everywhere. Click below to order GOOD GIRLS LIE: