Welcome to bestselling author Kimberly Belle! 
Kimberly's newest thriller, DEAR WIFE, hits the shelves today and is destined to be one of the biggest hits of the summer.  A woman on the run, a grieving husband, a bereft sister, a brokenhearted lover, a determined detective-or are they? Nothing is as it seems in Kimberly Belle's knockout thriller, DEAR WIFE. I tore through the pages of this clever, multi-layered stunner. Not even the most astute suspense fan will see what's coming until the final, jaw-dropping twist. Clear your calendar and put DEAR WIFE at the top of your to-be-read list. Five breathtaking stars!
Heather: Kimberly, I believe we met for the first time at Book Expo several years ago –  I was lucky enough to get a sneak peek at your first novel, The Last Breath, and fell in love with your writing. Your newest novel, Dear Wife, blew me away. It's the story of a woman on the run, a grieving husband a bereft sister, a brokenhearted lover and a determined detective. But like all the best thrillers, nothing is as it seems. Where did you get the idea for Dear Wife?
Kimberly: We did meet at Expo, when I was so green and…well, terrified, and you were so welcoming and full of encouragement. I will say that's been such a lovely surprise in this business, how we women authors help and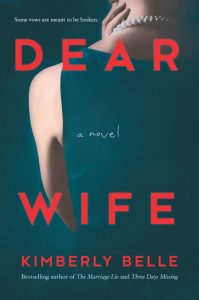 support others on their way up. I have been working hard to pass on the good karma you gave me that day at Book Expo.
As for the inspiration behind Dear Wife, that story was a gift from the writing gods. Often, a new story idea starts with a spark, and then I spend months brainstorming and staring into space, thinking and filling in the details. I had just gone through that process for a proposal for another story, but on the night I turned it in, Dear Wife woke me up in the middle of the night. And not just a spark but the whole, entire story. I knew where it began, I knew who my characters were, I knew my plot points and how it was going to end. I stared at the shadows on the ceiling while it played like a movie in my head. By the time I fell back asleep, I was desperate to write it – and to shelve the story I had just proposed. When a story lands in your lap like Dear Wife did with me, you have to honor it! The next morning, I called my agent and editor and asked for a week or two to throw a new proposal together. Thankfully, they loved the concept for Dear Wife as much as I did. I hope readers love it just as much!
Heather: I agree. We have such a supportive network – it's really something to behold. I love how Dear Wife came to you. I know readers will love it! You mentioned that the story played like a movie in your head and as flew through the pages of Dear Wife I found it very cinematic. I could clearly picture the setting and the characters – the mark of a great book! The novel centers around domestic abuse and how our society has a long way to go to protect victims and survivors. What research did you do on the subject?
Kimberly: It's always wonderful to hear such kind words from an author I admire, so thank you! As for research, I always have my internet open while I write so I can look up details around my plot or check my settings. But unfortunately, I didn't have to go very far to get into my character's head, or the head of her abuser. One of my dearest friends in real life was abused, and her experience was a spark that inspired both Three Days Missing and Dear Wife. I already knew how crafty abusers can be, how the abuse is always followed by affection and gifts to make the woman stay, how the abuse never goes backwards but only escalates. My friend is one of the lucky ones; she got out safely, but more than 70% of domestic violence murders happen after the victim leaves. To me, that statistic is just heartbreaking. People ask why the abused women don't just walk away, but most of the time it's because he doesn't let her.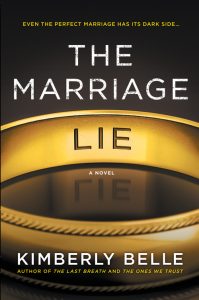 Heather: I'm so happy that your friend was able to escape her situation. I think writing about such difficult topics can be both therapeutic for readers as well as a catalyst for them to see a life beyond their circumstances. What feedback have you received from your readers? What do you hope readers take away from Dear Wife?
Kimberly: Thank you, and so am I! It was a horrible, awful, terrible, terrifying, heartbreaking experience for everyone involved, and my friend and I (especially her) have learned and grown a lot from it. And yes, though it took me a few years to put some distance between what happened and the actual writing of Three Days Missing, it was very therapeutic to get my feelings and frustration out on the written page. I thought I'd worked through it with Three Days Missing, until that night in bed when the idea for Dear Wife fell onto my lap. Clearly, I had more to say. In Dear Wife, the spousal abuse isn't just part of the plot, it is THE plot, and I guess subconsciously at least, with this book I wanted to take the abuse theme further and put it central for the reader. With both books, though, my overall message has been that there are women who take back their power, escape their abusers, and rebuild a happy and successful life, and often they emerge even stronger, more resilient. As my friend told me many years ago when she encouraged me to use her experience in a book, "if my story helps even one woman get out of a dangerous situation, then you have to tell it." She's my hero, and I hope I've made her proud.
Heather: I love this about your books ~ that sense of hope in even the most difficult of situations. In your bio you say, "I grew up in Kingsport, Tennessee, a small town in the foothills of the Appalachian Mountains. A gorgeous area, but I couldn't find an ounce of beauty in the place. I was too focused on planning my escape…" What did escape look for you? How has this impacted your writing?
Kimberly: I am one of those people who is not made for life in a small town. I am a city girl through and through, and I have always had a raging case of wanderlust. After high school, I took off for Atlanta, where I met a handsome, funny Dutchman. And I'm not going to lie, that he was a foreigner was a big part of his charm. We fell in love, and when he asked if I wanted to go to Amsterdam for a couple of months, I couldn't pack my bags fast enough. We ended up getting married, having babies, and sticking for twelve fabulous years. I'm back in the States now, but living abroad changed me in ways I can't count, and it impacted me as a writer because it changed me as a person. It opened my eyes and gave me this live-and-let-live mentality I really hope is reflected in my stories.
Connect with Kimberly here:
Website: http://kimberlybellebooks.com/
Facebook: https://www.facebook.com/KimberlyBelleBooks
Twitter: https://twitter.com/KimberlySBelle
Instagram: https://www.instagram.com/kimberlysbelle/