Today, I'm excited to welcome acclaimed author Jason Tanamor. Jason has been described by Publishers Weekly as "a writer with lots of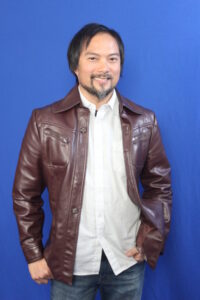 potential." On VAMPIRES OF PORTLANDIA, Publishers weekly also says that the "…creative worldbuilding of Portland's supernatural underworld…the most devoted vampire enthusiasts will find this rewarding."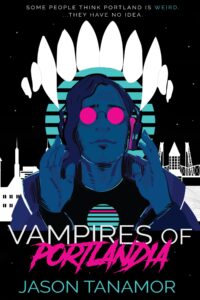 When Marcella Leones relocates her family of aswang vampires from the Philippines to Portland, Oregon, she raises her grandchildren under strict rules so humans will not expose them. Her only wish is to give them a peaceful life, far away from the hunters and the Filipino government that attempted to exterminate them.
Before she dies, she passes on the power to her eldest grandchild, Percival. He vows to uphold the rules set forth by Leones, allowing his family to roam freely without notice. After all, they are aswangs.
However, when the aswang covenant is broken, the murder rate in Portland rises drastically. Who is behind the murders? And who is behind the broken covenant? Along with sensie Penelope Jane, Percival must find the truth.
It's then they discover that there are other breeds of aswangs—werebeasts, witches, ghouls, and viscera—who have been residing in Portland for years.
Based on Filipino folklore (aswang), VAMPIRES OF PORTLANDIA is a fantastical tale of different monsters coexisting in the weirdest city in America.
FAST FIFTEEN
Q. What's your favorite book from childhood?
A. THE BLACK CAULDRON got me into reading. This was my favorite volume of "The Chronicles of Prydain" series.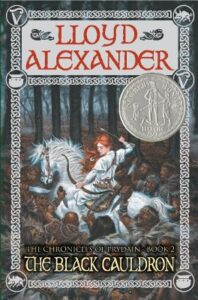 Q. Favorite beverage/snack while you read or write?
A. A nice porter, or milk stout, or lager.
Q. What book would you like to be a character in?
A. A character that John Berendt met in MIDNIGHT IN THE GARDEN OF GOOD AND EVIL.  One of my favorite books of all time. When I visited Savannah, Georgia, I fell in love with the city, the history, and the culture. It's easy to understand why so many unusual characters congregated in Savannah.
Q. Who is your writing heroine/hero?
A. There was a period when I didn't read anything. I picked up Dave Barry's BIG TROUBLE and fell in love with reading again. Then I read Chuck Palahniuk's FIGHT CLUB and it got me into writing. I started to do both regularly. Then, another period went by where I didn't read a lot. I picked up John Berendt's MIDNIGHT IN THE GARDEN OF GOOD AND EVILand I've been reading regularly since. That was in 2013. So, those three authors are big influences in my life.
Q. What's your favorite genre to read in your free time?
A. I don't have a favorite genre as I find a lot of genres interesting. Right now I'm digging the campy fantasy/humor story. The next three books I'm reading are humorous fantasies.
Q. How do you organize your home library?
A. I lump authors together (all different genres side by side) but it really comes down to hardcover versus paperback and size of the book. There is something about a pretty landscape of book spines that offer a nice aesthetic. Almost like a city's skyline.  
Q. Saddest book 
you've ever read?
A. 13 REASONS WHY by Jay Asher. It's sadly about a successful suicide but not only how it impacts one person but how her suicide affects multiple people.
Q. Scariest book you've ever read?
A. THE RITE: THE MAKING OF A MODERN EXORCIST by Matt Baglio. It's both scary and educational. Also, this stuff creeps me out.
Q. Name a book you
can't get out of your head?
A. I love "The Thief of Always" by Clive Barker. It's a children's book that also is geared toward adults. There's something about this story that stays with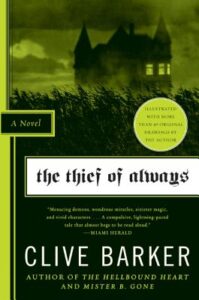 me. How time can be taken for granted. People always complain about not having as much time as they'd like, but this book forces you to slow down and make time, to not take life for granted, even if it's mundane. As I get older, I don't want to lose time frivolously.
Q. Where is your favorite place to read?
A. On the couch with one or four of my cats purring next to me.
Q. Where do you do your writing?
A. On the same couch with one of four of my cats purring next to me.
Q. What book do you reread over and over?
A. MIDNIGHT IN THE GARDEN OF GOOD AND EVIL Not only do I love the story, but the setting is what I miss. I'd turned down a job there prior to moving to Portland, so reading the book brings me back to Savannah. My wife and I's plan is to move there at some point. It's such a neat and historic city.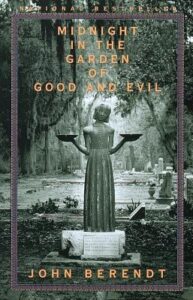 Q. If you could meet one writer ~ living or deceased ~ who would it be?
A. Mark Twain. For a multitude of reasons.
Q. What book is on your bedside table right now?
A. The first of the three humorous fantasy books I'm reading is called FAT VAMPIRE  by Adam Rex. It's about a teen vampire who must live the rest of his life chubby and unattractive, a never coming of age story. I picked it up at a secondhand story. It's a few years old but is worth picking up.
Q. What do you have coming next for readers?
A. NA (new adult) urban fantasy called VAMPIRES OF PORTLANDIA. It releases on September 29, 2020.
ABOUT JASON
Jason Tanamor is the critically acclaimed author of the novels ANONYMOUS and DRAMA DOLLS. His new novel VAMPIRES OF OF PORTLANDIA is a NA urban fantasy about Filipino folklore – aswang.
His writings have appeared in more than 250 publications. He's interviewed personalities such as Billy Corgan (Smashing Pumpkins), Pete Rose, and Dane Cook, and has covered U.S. President Barack Obama.
Tanamor currently lives and works in the Portland, Oregon area.
CONNECT WITH JASON
BUY THE BOOK