Something Old, Something New, Something Borrowed, Something Blue
No wedding bells here ~ did that almost 25 years ago, but when I look at the array of books that I've been reading during the month of July the old adage fits perfectly.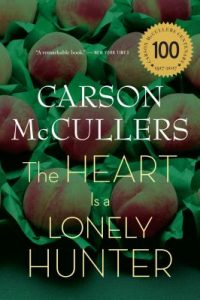 Carson McCullers would be 102 years old this year and her classic novel, The Heart is a Lonely Hunter was published when she was 23 years old. Did you catch that? TWENTY-THREE YEARS OLD! I'm rereading this beautiful, haunting novel for the second time – the first being when I was in my early twenties – about the same age McCullers was when she wrote the novel. Did I mention that she was only 23 years old? McCullers follows a motley crew of misfits in a southern mill town during the 1930s including John Singer ~ the touchstone of the group is a silver engraver who is deaf and doesn't speak. Those who seek John out are Mick Kelly – a teenage girl in search of her place in the world, an African-American physician, an alcoholic and a brooding restaurant owner. The characters come in out of each other's orbit in this devastating but exquisite novel.
Something New ~ The Patient by Steena Holmes
I read this advanced reading copy in three big gulps! Therapist, Danielle Rycroft knows that her patients hold secrets but is one of those secrets murder? A killer is murdering parents while their
children are sleeping peacefully in their own beds and Danielle fears that one of her patients could be the culprit. But which one? You'll have to wait until October (just in time for Halloween) to find out, but you can pre-order your copy today!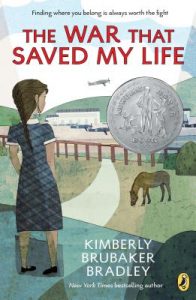 I borrowed this Newbery Honor book for the middle grades from my public library. As a mom and a former classroom teacher I'm still drawn to books written for young people and when a fellow book lover had this on her list of favorites, I knew I had to give it a read. Set during World War II, ten-year-old Ada has never stepped outside her London apartment. Born with a twisted foot, Ada's abusive mother never allowed her out of their home so when her little brother is sent to the British countryside to escape the bombs, Ada sneaks away to be with him. Under the watchful eye of Susan, the sibling's reluctant caretaker, Ada and Jamie begin a new life and begin to grow and blossom away from their cruel mother. This is a definite read for any lover of historical fiction.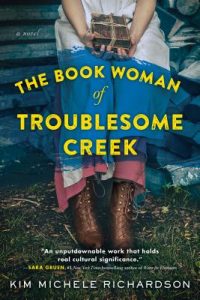 I was immediately drawn to this books midnight blue spine and amazing title. I mean, who can resist a novel with both book and trouble in the title? Set in depression era Appalachia, the story follows blue-skinned (yes, blue-skinned) traveling librarian Cussy Mary Carter as she brings the love of books to a community that is suspicious of outsiders.