Annie Ward is the author of the critically acclaimed novel, BEAUTIFUL BAD.
In a starred review, Publishers Weekly says about Annie Ward's BEAUTIFUL BAD – "Ward takes her time revealing what tragedy transpired in the present, heightening suspense and maximizing her devastating conclusion's emotional impact. Evocative descriptions and strong senses of time and place complement the intricate, intelligent plot, which shocks and chills while thoughtfully examining trauma's toll on people and their relationships."
Today, Annie joins us in a lightening fast round of Snappy Sixteen.
1.What's your favorite book from childhood?
I must have read TUCK EVERLASTING a dozen times when I was in grade school. It was beautiful and tragic, and it marked the beginning of a life-long fascination with the supernatural. When I was a kid I worried a lot about dying so a book about immortals living amongst us was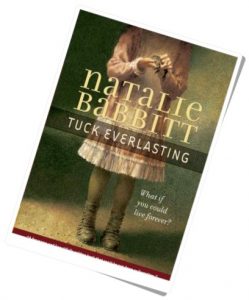 especially appealing to me.
2. Favorite beverage/snack while you read or write?
Chamomile tea during the day and if I do a late-night writing session then I'll probably have a glass of red wine. I often have a few dark chocolate wrappers wadded up and strewn around my desk by the time I turn in for the night.
3. What book would you like to be a character in?
I've read all the GAME OF THRONES books and I love the strong female characters. I'm also one of those Renaissance Fair nerds who goes every year, takes my kids and dresses up, so I think I would have fit right in at the castle Winterfell.
4. Who is your writing heroine/hero?
Probably Judy Blume. She just seems so smart, down-to-earth, funny and kind. Not to mention the fact that she has helped countless kids feel like they aren't alone in their adolescence.
5. What's your favorite genre to read in your free time?
For a lot of my life I read mostly contemporary literary fiction, but a few years back I got hooked on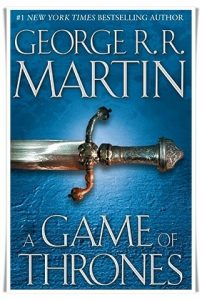 psychological thrillers. From time to time I'll go back and read old favorites from my college days.
6. How do you organize your home library?
Ha ha, this is a good one! I'm not all that well organized. The books I use over and over again for research are by my computer. I have a bookcase upstairs by the bedroom that is a mess, and both bedside tables are stacked high with books on my to-be-read list. I have a special, smaller bookcase in my office for books written by authors I've been lucky enough to get to know in real life. (Heather Gudenkauf 🙂
7. Saddest book you've ever read?
THE TIME TRAVELER'S WIFE. I actually can't remember exactly how it ended, but I remember about ten years ago I spent long stretches of time sobbing loudly and blowing my nose every few minutes as I read. My husband was worried and asked me why I was doing that to myself. Sometimes you just need a good cry.
8. Scariest book you've ever read?
PET SEMATARY. I love my pets so much that I could imagine myself just drowning in grief and making that irrational but understandable terrible decision that ends in horror. That's scary, to see how easy it would be to do down the wrong path.
9. Name a book you can't get out of your head?
ELEANOR OLIPHANT IS COMPLETELY FINE. There's something about the dark humor in that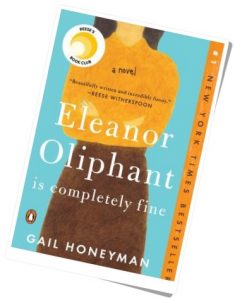 book. I find myself going over certain quotes in my head and laughing out loud. It was very, very clever.
10. Where is your favorite place to read?
In a restaurant, at a quiet back booth or maybe on the terrace, in between lunch and dinner when business is slow.
11. Where do you do your writing?
My computer is in a little office in my house but sometimes I drag a laptop out to a coffee house if I'm feeling antsy or claustrophobic.
12. What book do you reread over and over?
I've read EAT PRAY LOVE quite a few times. Sometimes when I'm feeling down that book can help me change my mood. Or at least feel like I'm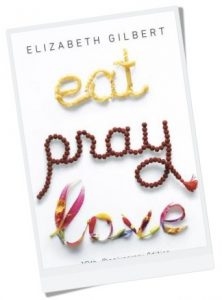 not the only person trying to figure out if I'm on the right path in life.
14. If you could meet one writer ~ living or deceased ~ who would it be?
I really respect JK Rowling. Her story is so epic and inspiring and of course, I love the fact that her books have helped my boys learn to love reading.
15. What book is on your bedside table right now?
The two I've been going back over the last few days are BEFORE SHE KNEW HIM and THE GIRL BEFORE because, with my work in progress, I'm struggling with a type of plot device that both those books handle well.
16. What do you have next for readers?
Well, as I just mentioned I am still in the weeds with the next book. Hopefully with some hard work and a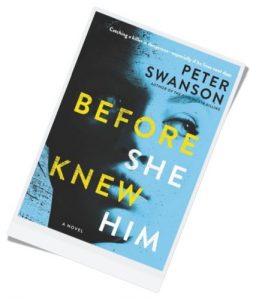 little bit of luck I'll have it all straightened out soon. It will be a psychological thriller about a young woman who stumbles across something in an open house that will change her life forever.
Annie loves hearing from readers. You can connect with her here:
Website: https://www.annie-ward.com/
Instagram: https://www.instagram.com/annienighward/
Facebook: https://www.facebook.com/anniewardbooks/
BookBub: https://www.bookbub.com/authors/annie-ward
Twitter: https://twitter.com/_Annie_Ward?lang=en